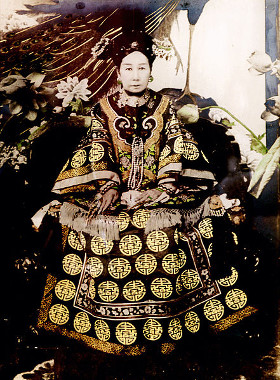 Empress Dowager Cixi was the most important woman in Chinese history. She ruled China for decades and brought a medieval empire into the modern age.
At the age of sixteen, in a nationwide selection for royal consorts, Cixi was chosen as one of the emperor's numerous concubines. When he died in 1861, their five-year-old son succeeded to the throne. Cixi at once launched a palace coup against the regents appointed by her husband and made herself the real ruler of China—behind the throne, literally, with a silk screen separating her from her officials who were all male.
Cixi fought against monumental obstacles to change China. Under her the ancient country attained virtually all the attributes of a modern state: industries, railways, electricity, the telegraph and an army and navy with up-to-date weaponry. It was she who abolished gruesome punishments like "death by a thousand cuts" and put an end to foot-binding. She inaugurated women's liberation and embarked on the path to introduce parliamentary elections to China.

Cixi reigned during extraordinary times and had to deal with a host of major national crises: the Taiping and Boxer rebellions, wars with France and Japan—and an invasion by eight allied powers including Britain, Germany, Russia and the United States.
you can also read: http://www.telegraph.co.uk/culture/books/historybookreviews/10372293/Empress-Dowager-Cixi-by-Jung-Chang-review.html
wiki:http://en.wikipedia.org/wiki/Empress_Dowager_Cixi
and here http://www.travelchinaguide.com/intro/history/known/cixi.htm