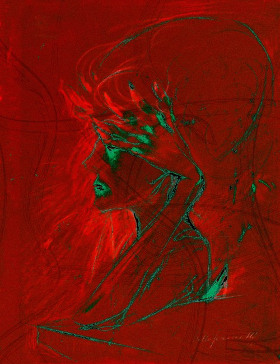 Why do you think more men are drawn to Bitcoin than women? Why is there a disconnect between females and Bitcoin?

That was the question I started to ask myself when I learned about bitcoin, why we are different than men in tech, why men still dominate STEM college majors and careers. Because this is the real issue. I think finally I found the answer- I assume it's not the matter of Bitcoin but information technology. Why there is such a great technological gap between men and women.... Stats are clear: 'women currently comprise 18% of computer science undergraduate majors'. In US. In EU, in IT sector work only 1.5% of women.
What are possible reasons? I did a small research.
Maybe we are just inherently stupid? Apparently not. It was proven by a lot of researches (even not ideologicaly motivated) that women are comparably intelligent to men. At least at an early stage of life. Later, men who are more often involved in activities requiring learning new things become a little more intelligent due to such training. However the difference is usually not more than 3%. This suggests, that despite lack of training and multiple factors potentialy negatively affecting women intellectual development, they are at least as intelligent as men.
The above gives us answer what is not responsible for handicapped position of women in more serious areas of human activity, but what is responsible?
I can pinpoint two factors.
Biology.
People often disregard biological differencies as just a matter of appearance and physiology. In fact we are shaped through our entire life by experiences. These experiences are different between men and women. And not just because we cannot easily urinate standing and men do not menstruate :) . There are more subtle, but ultimately more important for intellectual formation differences. Just to show a few: women visual perception is focused on colors and general image, while men more precisely perceive details and movement (this is due to different hormones inhibiting formation of respective neurones); there are differences in three dimensional orientation based on visual perception; there is measurable difference in sound perception between both sexes. There are lot more such cognitive differences that made up and affect our experience.
Culture.
Patriarchal system was natural consequence of turning humans into agriculture and animal domestication based societies. Since renaissance and later industrial revolution equalization of gender roles became needed, however not to full extent. This can be easily observed by comparing cultures that adopted industrialisation in different moments in time. Culture change slower than technological progress as it requires biological change of generations. Now we are at the beginning of information era, but are still have industrial era mentality. This mentality affects women and men respectively and in particular their choices of career paths, self-confidence in terms of abilities, willingness to follow stereotypes. Finally, present day western world mentality defines unequal gender roles as it sits some hundred years behind (approximately four generations).
To sum it up - women can have more difficult start with information technology issues, however if they start they have the same chances for success as men. To put it into Bitcoin context - to feel comfortable in cryptocurrencies world one must understand (not only learn by heart) some basic principles of network operation, cryptography and information security.
This is a barrier for women, as there is no good source of information about these issues written/presented in a way that could be attractive for them. Majotity of IT related publications are made by men and adjusted to their mode of perception. From my own experience it is possible to switch to this mode, however it required forcing myself and wasn't something that I did with pleasure. Women with less determination than I have will just stop at the beginning.
Barbara Messer
CEO and Editor of BWmag